Psychology plays an important role in chess. Many chess players check their opponents before the game to decide if they dare to play for victory. With ChessBase plugins you send the right message to your opponent:
"I'm ready! I know my stuff! And I know your games!"
You can get all ChessBase fashion accessories and more at Spreadshop.
ChessBase Collection 17
The ChessBase collection offers items for men, women and children, in different sizes and fabrics, with different prints. Here is a small selection:
Hoodie for men guarantees a strong look: if you want to see more, visit Spreadshop.
The long sweatshirt for women packs a real punch in the tournament hall. Across and off the board. To see more, go to Spreadshop.
For really hot matches: summer shirt for experts. To see more, go to Spreadshop.
Tailored for cool attacks: Women's Honey Blue Shirt – to see more, head over to Spreadshop.
The ChessBase apron perfectly protects against accidents when you try to serve your opponent a new starter. Also perfect for cooking food or slicing well on the grill – to see more, head to Spreadshop.
ChessBase 17 cap helps your memory – head over to Spreadshop for more.
Coffee or tea can improve your game. More at Spreadshop.
Indispensable: ChessBase bag. Climate friendly, reusable and 1000 times cooler than the widely used plastic bag: head to Spreadshop for more.
A scarf, not only for the dog (although the dog is not included in the purchase of the product). To see more, go to Spreadshop.
---
Fritz&Chester collection
In addition to the ChessBase collection, there is also the Fritz&Chester collection for small and large chess players, for example the Fritz&Chester bag with a clear, albeit German, message to the opponent: "Ich setz dich matt, wie die Klatsche die Fliege!" which, roughly translated, declares: "I will swatt you as a spatula swatts a fly!"
For more, go to Spreadshop.
---
Looking back:
This is what they wore at ChessBase in 2005:
In another office and with another apron, tactician Oliver Reeh (front) and André Schulz (chessbase.de editor) cook in the ChessBase TV cooking studio (live broadcast 2005)
Assisted by Yared Lafer and Pascal Lautenschläger
Oliver Reeh, onion cutting
The first ChessBase T-shirts were already available in 2001: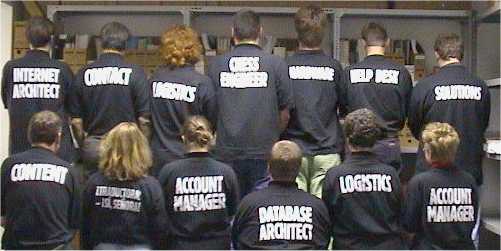 The ChessBase 2001 team

In the back row, from left to right: Ben Bartels, Frederic Friedel, Gisela Jäger, Mathias Feist, Matthias Wüllenweber, Steffen Giehring. In the first row from left to right: André Schulz, Nadja Wittmann, Yvonne Gerstorff, Helga Wellershaus, Mira Kowalski, Rainer Woisin
You can find all products at Spreadshop
Links