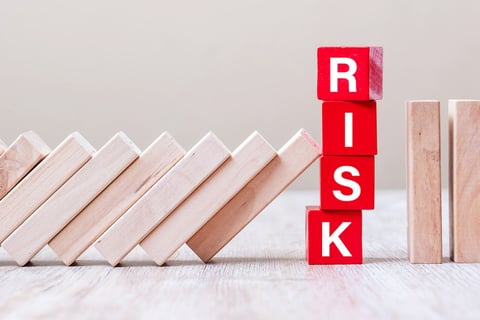 Cyber ​​incidents and the risk of business interruption are the biggest concern for companies for the second year in a row, according to a new report from Allianz.
While 34% of respondents to the Allianz survey each rated cyber incidents and business disruptions as top concerns, macroeconomic issues such as inflation, financial market volatility and the looming recession (rising from #10 to #3 year-over-year) and the impact of the energy crisis were at the top of this year's list of business risks.
All of these concerns required immediate business action, while longer-term concerns such as natural disasters (#3 to #6), climate change (#6 to #7), and pandemic outbreaks (#4 to #13) fell in the rankings. Political risks and violence are new entrants to the top 10 global risks at 10th place, while the lack of skilled labor rose to 8th place. Changes in legislation and regulations remained the top concern at #5, while fire/explosion risk fell two places to #9.
The Allianz Risk Barometer is compiled by Allianz Global Corporate & Specialty (AGCS) together with other Allianz entities. 2,712 risk management experts in 94 countries and territories participated in the survey.
"For the second year in a row, the Allianz Risk Barometer shows that companies are most concerned about growing cyber risks and business interruption," said Joachim Mueller, CEO of AGCS. "At the same time, they see inflation, the coming recession and the energy crisis as immediate threats to their business. Companies – especially in Europe and the USA – are concerned about the current 'perma-crisis' arising from the consequences of the pandemic and the economic and political impact of the ongoing war in Ukraine. It is a stress test for the resilience of every company.
"The positive news is that as an insurer we are seeing continued improvements in this area among many of our customers, particularly around making the supply chain more resilient to failures, improving business continuity planning and strengthening cyber controls," Mueller said. "Taking action to build resilience and reduce risk is now front and center for businesses, given the events of recent years."
Cyber ​​incidents
Cyber ​​incidents, including IT outages, ransomware attacks and data breaches, were ranked as the most important risk globally for the second year in a row. It is also ranked as the top threat in 19 different countries, including Canada, the UK, France, Japan and India. It's also the risk that small businesses (those with less than $250 million in annual revenue) are most concerned about.
"For many businesses, the cyber threat is still greater than ever, and cyber claims remain high," said Shanil Williams, AGCS board member and chief corporate underwriting officer, responsible for cyber insurance. "Large companies are used to being targeted, and those with adequate cyber security can more effectively repel most attacks. Small and medium-sized companies are increasingly affected. They tend to underestimate their exposure and must continually invest in strengthening their cyber control framework."
According to the Allianz Cyber ​​​​Center of Competence, the frequency of ransomware attacks has continued to increase this year. The average cost of a data breach reached an all-time high of $4.35 million and is expected to exceed $5 million this year.
The war in Ukraine and broader geopolitical tensions have increased the risk of a large-scale cyber attack by state-sponsored actors, Allianz said. There is also a growing shortage of cybersecurity professionals, which increases the risk.
Business interruption
2023 is likely to be another year with increased business disruption risks as many business models are vulnerable to sudden shocks and changes, Allianz said. Business interruption ranked No. 2 globally on the company's risk list, and was the No. 1 risk in countries such as the US, Brazil, Germany, Mexico, the Netherlands, Singapore, South Korea and Sweden.
Read the following: AGCS is establishing an internal ESG team
There are many sources of business interruption, and cyber is the cause that companies fear the most, according to Allianz. Rising energy costs have forced some energy-intensive industries to relocate production or even consider temporary shutdowns, and the resulting shortages threaten to disrupt supplies to several critical industries in Europe, including food, agriculture, construction and others. A possible global recession is another likely cause of business interruption in 2023.
Macroeconomic issues
Macroeconomic developments such as inflation and economic volatility were the third biggest risk for companies in 2023, up from number 10 in 2022. This is the first time this risk has appeared in the top three in a decade, Allianz said.
Inflation is a particular concern, as it erodes the profit margins of many companies, Allianz said.
"In 2023. it will be a year full of challenges. In purely economic terms, it will probably be a year to forget for many households and companies," said Ludovic Subran, Chief Economist at Allianz. "However, there is no reason to despair. On the one hand, the reversal in interest rates helps, not just millions of savers.
"The medium-term outlook is also much better, despite – or rather because of – the energy crisis. The consequences, beyond the expected recession in 2023, are already becoming clear: a forced transformation of the economy in the direction of decarbonization, as well as an increased awareness of risk in all parts of society, strengthening social and economic resilience."
Do you have something to say about this story? Sound off in the comments below.