Derek Jeter and Michael Jordan share a deep bond, cemented by their status as two of the greatest athletes in baseball and basketball, respectively. The evolution of their relationship can be traced back to their first meeting in the Arizona Fall League when Jordan unexpectedly switched from basketball to baseball. In time, Jeter became an ambassador for Jordan's shoe brand and the two formed a strong friendship, with Jeter referring to Jordan as his "brother".
Similarly, NBA GOAT Michael Jordan's influence on Jeter was not limited to their performance on the court. For that matter, Jeter revealed Jordan as his fashion influence in an interview with GQ Sports and even went so far as to replicate the five-time NBA champion's wardrobe using the same tailor as the GOAT.
Derek Jeter's Fashion: Inspired by Michael Jordan
AD
Article continues below this ad
In a recently aired interview with GQ Sports, Derek Jeter talks about his oversized coats and how MJ pioneered the whole trend. Captain Clutch, who won five World Series rings with the New York Yankees, unveiled Jordan as the unofficial throne "sports fashion icon."
The 14-time All-Star and former captain of the New York Yankees, while talking about how he got Jordan's tailor while the GOAT was completely oblivious. Jeter says, "Look at these oversized suits, man. I mean, everything was oversized. And I actually went to the same tailor. I don't even know if he knows that. I went to his tailor to make me suits. Because Michael was, you know, a sports fashion icon. Everyone looked up to MJ."
Finally, while joking about Jordan's oversized coats, Jeter said, "tthey are a little big, to say the least, they are a little big."
Two legends go back a long way
AD
Article continues below this ad
In an interview with Drink Champs in late 2022, Jeter talked about his first encounter with Michael Jordan, which left him in awe of the NBA legend. In an interview, Captain Clutch talked about his meeting with Jordan at the Arizona Fall League and talked about the lesson he left him.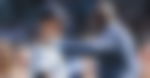 Jeter said, "From that moment on, he always looked out for me. And I appreciated that. He taught me how to handle myself not only on the field, but also off it. I still go to him for advice."
AD
Article continues below this ad
Check out this story: From Mariah Carey to Lara Dutta: Derek Jeter's star-studded dating history
What do you think about Derek Jeter copying Michael Jordan's tailor? Let us know your thoughts in the comments below!