A Houston bar owner is speaking out about crime in the city after a string of burglaries and robberies.
Star Sailor owner Marin Slanina joined "Fox & Friends" to discuss how crime hurts small businesses like hers.
"Anyway, they're breaking into all of us," said Slanina.
TEXAS GOV. ABBOTT ENTERS 3RD SEMESTER WITH PLEDGE FOR SAFER SCHOOLS
According to FOX 26, several small business owners went to a Houston City Council meeting on Wednesday to discuss their crime concerns, including Bacon.
"It's definitely not just a neighborhood thing," she said. "The city of Houston as a whole has problems with burglaries, thefts and break-ins."
I've been broken into 15 times in the last year, said one owner.
"Some [business owners] have worked very hard living in their business with a bulletproof vest and a shotgun, during the hours when these burglaries take place," said Slanina.
"Anyone who walks in the door, you want to give them the benefit of the doubt. [However], you still have to be careful. You still have to be willing to take care of your house."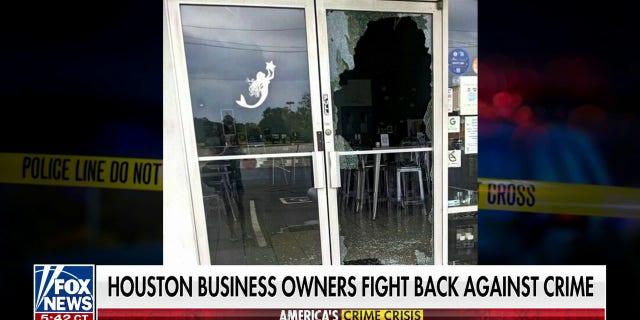 Slanina said it's "problematic" that she started her business in the "big city of Houston" and is now dealing with repeated burglaries as a result.
Slanina described what her business and others nearby experienced, including eight burglaries in less than two days.
"Back in May of last year, we were broken into for the first time, as you saw on that surveillance video, it was a robbery, they entered and stole our cash register. They also broke into the neighboring nail salon and hair salon. And then after less than 48 hours later they came and took us. A nail salon, a hair salon, another restaurant and another restaurant," she recalled.
Slanina said some bar owners slept in their bars armed with guns.
"Reserve 101 has the best selection of bourbon in the city of Houston. One bottle outside those doors could cost $25,000. So any loss for a small business is too big, especially in this day and age."
Cobo's Grill owner Raul Jacobo joined "Fox & Friends First" last week to discuss how crime has affected his ability to do business in his hometown and why he believes he has to sleep at the bar to prevent criminals from striking again.
"This is a huge problem for our city right now," Jacobo said co-hosted by Carley Shimkus. "If I'm frustrated … based on these burglaries, I could only imagine how the families feel that they've actually lost loved ones because certain criminals have been put back on the street."
CLICK HERE TO DOWNLOAD THE FOX NEWS APP
"We fear for our lives and must defend what is ours … by all means possible," Jacobo said.
"Hopefully he'll get caught again and stay. But … we just don't see that being the case. We really feel Houston is letting us down."
Fox News' Bailee Hill contributed to this report