There is a unique Final Home 'survival jacket' on display in the window of Bruce, a recycled clothing store in Gertrude Street, Fitzroy, which stocks some of the world's most recognized fashion labels – Yohji Yamamoto, Comme des Garcons, Issey Miyake, Maison Margiela, Paul Harnden and Elana Dawson are just some of them.
With a $700 price tag for the jacket, released in the 1990s by experimental Japanese designer Kosuke Tsumura, it certainly deserves some breathing room. Here, as at the store's other locations in Clifton Hill and Hobart, men's, women's and unisex clothing, footwear, jewelery and accessories vary in price, depending on rarity and the designer behind each creation.
Martin Margiela's Spring 1998 'Flat' collection is, according to store manager William Steven, "highly desirable". Called "flat" because the garments appear as flat silhouettes against the body, a tee from this collection can cost upwards of $500, while jackets go north of $2,000, depending on their rarity and condition.
"There's also what I would call handmade clothing from the likes of Paul Harnden and Elana Dawson (both British designers)," says Stevens, reaching for a long Victorian-inspired tweed coat that retails for $2,200. "A similar coat new would easily sell for over $5,000."
For Bruce's younger clientele, the most popular items are Comme des Garcon, with skirts starting at $200. And for those with more doshas – usually in the 40 and up market – it's about collecting the right piece that is unique, often extremely hard to find, and often evokes memories of the period when it was released.
"In general, our archival works (from the early 1980s to the early Wragolans) are more in demand," says Stevens. And for Bruce's younger demographic, "vintage is a means to a sustainable path, not following fast, one-off fashion."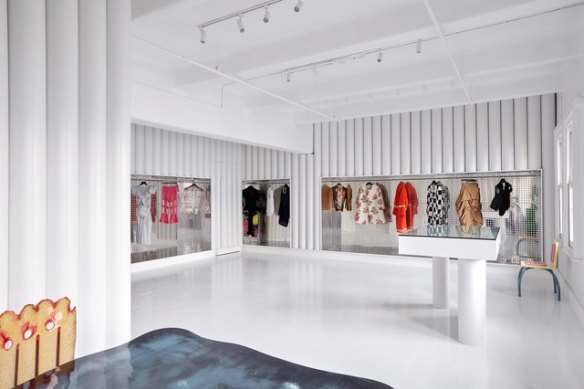 Otto La Rosa, owner of dot Comme at Curtin House in Melbourne's CBD, has amassed a staggering 4000 items of clothing since he set up his business 11 years ago. From Japanese to Belgian designers, it's a smorgasbord of some of the world's fashion world.
La Rosa has meticulously cataloged and archived each item and can easily recall the collection where and when the garment was first released. While La Rosa often dresses head-to-toe in Walter Van Beirendonk for his vibrant, often fluorescent colors, if she has to pick one of her favorites, it's the Dip Dye collection from Comme des Garcon's 1993 men's winter collection.